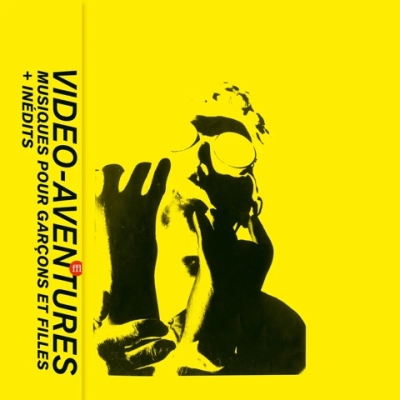 VIDEO-AVENTURES
MUSIQUES POUR GARÇONS ET FILLES
Format: double LP vinyl
Label: Souffle Continu Records (France)
Recording date: 1979 to 1986 + 1990
Release date: 2023
N° 2 in May 1981 in the NEW MUSICAL EXPRESS's charts (Independent category).
Selected from thirty albums in La Discotek Idéale in the Special Krautrock ! issue of GONZAÏ MAGAZINE in 2019.
One of the 25 best albums (analog synthesizers category) elected by GUITARES ET CLAVIERS magazine, in 1999.
Dominique Grimaud: Synthi AKS, Korg 700, guitar, alto sax), Monique Alba: keyboards, Gilbert Artman: drums, piano, Guigou Chenevier: drums, tenor sax, Cyril Lefebvre: National steel guitar, Jean-Pierre (Verto) Grasset: RSF synthesizer, Moog synthesizer, Fender Stratocaster guitar + Jac Berrocal : vocals, Han Burhs : vocals, Sue Garner : vocals, bass. Cover picture: Serge Novi. Designed by Stefan Thanneur. Recordings remastered by Gilles Laujol (Nimagi).
A luxurious reissue initiated by the generous label Souffle Continu Records. The 30 cm vinyl format amplifies the impact of the visual, which already impressed in a 25 cm format more than forty years ago. The booklet reveals, also in large format, previously unpublished photographs, including live performances. It also includes, of course, a biography of the duo. The original album benefits from a new high quality mastering. The second vinyl is dedicated to the unreleased tracks, sixteen in all, (alternative or live takes, compilations) some of which were already on the CD reissue released by Spalax Records in 1997, but six are completely unreleased.