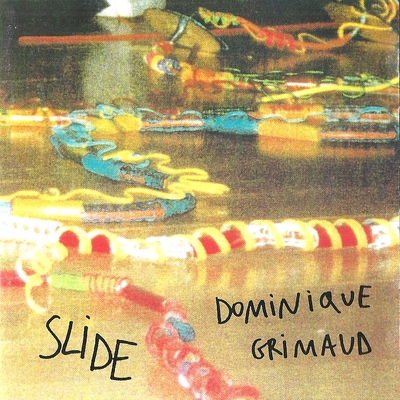 DOMINIQUE GRIMAUD
SLIDE
Format: CD
Label: Vand'œuvre (France)
Recording date: 1998/1999
Release date: 1999
In the Vibrations magazine's Top 5 Best Albums of 1999 (Electronica / Authentica category).
Dominique Grimaud: electric guitar with objects, National steel guitar, mandoline-banjo, harmonica, épinette des Vosges, Pascal Comelade: piano, accordion, Michel Doneda: soprano sax, Dominique Répécaud: guitar, Laurent Dailleau: theremin, Jean Pallandre: recorded sounds, Guigou Chenevier: drums, percussions, Clément Le Quan: guitar, Fabrice Charles: trombone, Vincent Geais: analog synthesizer, Jacques Debout: recycled vinyls records, Christophe Sorro: theremin, Yan Cadoret: acoustic guitar, François Dietz: recording. Cover and booklet: Dominique Grimaud; pictures: Patrick Kuhn, Gérard Nguyen. Lettering: MPB.
Studio version of the installation of the same name. Each piece was built in a similar way, a deliberately homogeneous musical framework, on which the eleven guests intervened in complete freedom to disturb or not the imperturbability.
Press:
"Une espèce de free-folk rituel, expérimental et improvisé." PEACE WARRIORS, le fanzine des musiques inespérées.
"Slide apparaît comme un OVNI dans le paysage musical, en dehors de toute école, de tout courant musical prédéterminé…Une musique habité par l'errance, le choc de pratiques instrumentales, la création de paysages imaginaires. De la musique tout simplement." Jérôme Noetinger REVUE & CORRIGEE.
"Un disque vraiment remarquable, subtil, curieux et enthousiasmant…En cinq pièces de neuf minutes (où le temps distendu s'abolit), en cinq rêves pour l'oreille, un voyage qui requiert toute l'attention auditive." Guillaume Tarche IMPROJAZZ