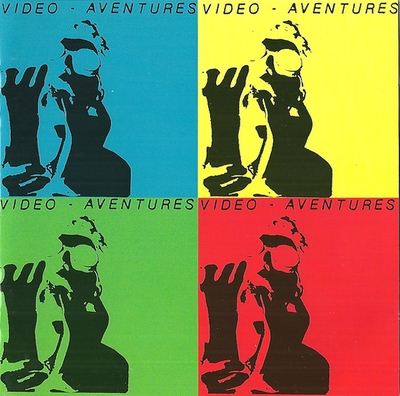 VIDEO-AVENTURES
MUSIQUES POUR GARÇONS ET FILLES
Format CD
Label: Spalax Music ( France)
Recording date: 1979/1982/1984/1986/1990
Release date: 1997
Selected from thirty albums in La Discotek Idéale in the Special Krautrock ! issue of GONZAÏ MAGAZINE in 2019.
One of the 25 best albums (analog synthesizers category) elected by GUITARES ET CLAVIERS magazine, in 1999.
Dominique Grimaud: Synthi AKS, Korg 700, guitar, alto sax), Monique Alba: keyboards, Gilbert Artman: drums, piano, Guigou Chenevier: drums, tenor sax, Cyril Lefebvre: National steel guitar, Jean-Pierre (Verto) Grasset: RSF synthesizer, Moog synthesizer, Fender Stratocaster guitar. Cover picture: Serge Novi. Graphic design: Dominique Grimaud.
After being ranked second in the English charts when it was released, the album appeared two decades later in a list of the best analog synthesizer albums. The CD support has made it possible to add many unreleased tracks (alternates takes, tracks published on compilations) and a live recording.
Press:
"Visionnaire et bien avisé Dominique Grimaud et sa bande défrichaient avec audace les plus luxuriantes des jungles, celles d'une techno-pop préfigurant de façon troublante Mouse On Mars ou Stereolab…En faisant voler en éclats les frontières qui séparaient la pop des musiques avant-gardistes instrumentales, Vidéo-Aventures avait plus d'une décennie d'avance... LES INROCKUPTIBLES, (1998)
"Musiques Pour Garçons et Filles, s'affirme aujourd'hui comme le parrain caché de toute une génération à la pointe, où Air, Stereolab, Tortoise et Mouse on Mars agitent de leurs bras menus un certain goût de déjà-vu." NOUVELLE VAGUE (1998)
"A triumph of concision…". NEW MUSICAL EXPRESS (1981)