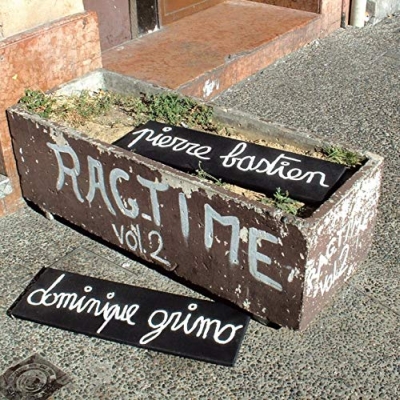 PIERRE BASTIEN / DOMINIQUE GRIMO
RAG-TIME vol.2
Format: CD
Label: In Poly Sons (France)
Recording date: 2006/2007
Release date: 2008
Dominique Grimaud: records, autoharp, Moog, ukulélé, mandoline-banjo.
Pierre Bastien: records, tourne-disque, trumpet, cornet, sanza, rabel, violon à clous, flûtes.
Pierre Bastien, the creator of the brilliant Meccanium, was enthusiastic about Rag-Time. He proposed to record a sequel to this album. The disarticulation is more devious than in the first volume. It becomes a Dadaist dislocation, a pataphysician discourse. This did not prevent the album from being reviewed in a classical music magazine and from appearing in L'Âge d'Or (The Golden Age), a film by Jean-Baptiste Alazard.
Press:
"You soon realise that what initially seems slightly arch fun is actually a sombre, ghostly and profoundly creepy mediation on human frailty, ageing and death." THE WIRE
"Le style jungle de Duke Ellington se basait sur l'exploitation de sonorités parasites, les Futuristes italiens ne revendiquaient pas mieux, tout comme la noise et les musiques électroniques actuelles. Rag-Time Vol.2 joue sur le temps, la durée et la matérialité concrète des notes émises. Il est ainsi tout sauf intemporel au sens propre du terme, mais il atteint pourtant l'intemporalité des grands disques." Eric Deshayes, NEOSPHERES
"Avec un peu on pourrait dire de ce disque qu'il est celui que le Monsieur Hulot de Playtime aurait pu composer pour illustrer sa découverte du monde moderne, si il avait eu quelques velléités musicales." MOUVEMENT.NET
"De succulentes recettes à déguster entre âmes Mi »." Franck Mallet, CLASSICA REPERTOIRE avril 2008.