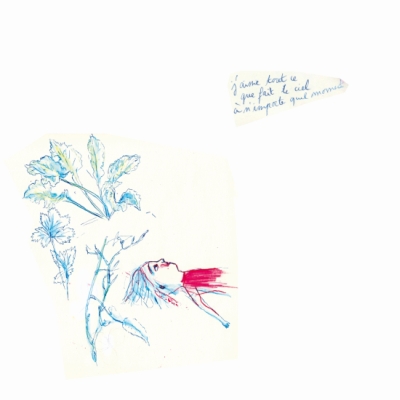 VÉRONIQUE VILHET /
DOMINIQUE GRIMAUD
J'AIME TOUT CE QUE FAIT LE CIEL A N'IMPORTE QUEL MOMENT.
Format: LP vinyl
Label: In-Poly-Sons (France)
Recording date: 2018
Release date: 2020
Ranked in The Wire charts, March 2021. Compiled by Guillaume Belhomme - Lenka Lente.
Véronique Vilhet: voice / Dominique Grimaud: Sounds. Pre-mastering by David Fenech. Artwork by Sophie Dutertre.
" I love everything that the sky does at any time » (in the words of Richard Brautigan) is based on voice and song format, but always in an experimental statement. Besides Richard Brautigan, he pays tribute to the Indian national anthem, to Moondog, to blues and folk, to the Paris Commune, to Happy Days (program of the National Council of Resistance) and to Charlie ... "
Press:
" One of their originals commemorates Richard Brautigan, and the album's title translates that American writer's appreciation of the endlessly changing sky. Understated, in the way that cult classics in the making often are, these sparse yet crafty arrangements and Vilhet's engaging voice celebrate music which, like the sky, is permanent and ephemeral, transient yet enduring."
Julian Cowley, THE WIRE.

"A refined, true and sincere duet. A voice sung and reprocessed by simple and careful electronics. An intimacy worthy of the first duets of Brigitte Fontaine and Areski. A new HAPPINESS." Denis Tagu IN-POLY-SONS.
" C'est ni plus ni moins de l'exploration sonique intimiste… tout en dosage expert, à la fois scrupuleux et radical, mais sans outrance ni prétention hautaine. Ce n'est pas seulement un disque, c'est un onguent ! " Stéphane Fougère RYHMES CROISÉS.