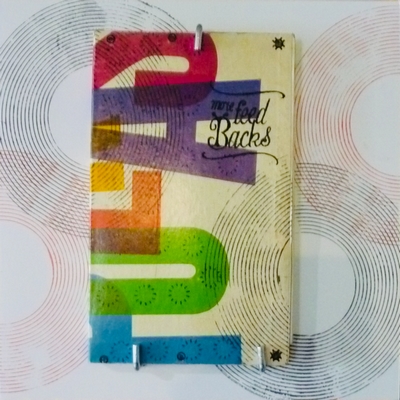 DOMINIQUE GRIMAUD
morefeedBacks
Format: cassette + booklet… in box
Label: Ar(t)chiv' (France)
Recording date: 2015, 2017, 2020, 2021
Release date: 2021
Selected by Pascal Régis in the Tippex Tops / 2021 Playlists
Dominique Grimaud: Samples, electronic, text, collage.
Tribute to the very first feedback published on a record: the introduction to I Feel Fine, a Beatles song released on a single in 1964. « I used exclusively this short introduction, which lasts no more than five seconds, to create new sound forms, using modern tools: pitch, delay, ring modulator, reverb, envelope… » The boxes are made from reused vintage vinyl record sleeves. Each copy is unique and uses the techniques of cut-up, Art Brut, pad printing and transfer (concealment, transformation, alteration).
Dimensions : 25 cm / 15 cm / 1,7 cm
Contains :
- a cassette
- a 14-page booklet (French or English)
- a photograph (postcard format)
- a collage de jeunesse (postcard format)
- Sale price: 15 euros (contact me by email grimo2@wanadoo.fr for the terms of choice and purchase).
Press:
" The vibe is as weird and proggy as you could hope, and the package is great. "
Byron Coley, THE WIRE.
" Entièrement axé sur le seul échantillon de la fameuse intro du titre des Beatles. La musique obtenue est particulièrement surprenante, déboulant tout à la fois du passé et du futur. Un heureux mélange entre l'organique et l'électronique qui ne heurte pas, et plonge dans un onirisme qui pose question : comment obtenir autant de sonorités différentes, colorées et virevoltantes avec si peu de matière ? Vous l'aurez compris, morefeedBacks est une très belle réussite.
Dominique Grimaud y dépeint la découverte de ce qui va le forger pour la décennie à venir et l'aider à devenir la figure que l'on connait, à savoir à lui seul l'une des branches les plus pertinentes de l'avant-garde française. Au passage, il remet plus ou moins les pendules à l'heure… Dominique Grimaud revit cette décennie en quelques pages, toutes hantées par une émotion palpable qu'il partage, avec la générosité qu'on lui connait… C'est la chronique charnelle et émouvante d'un éveil musical. "
Laurent Nerzic REVUE & CORRIGÉE.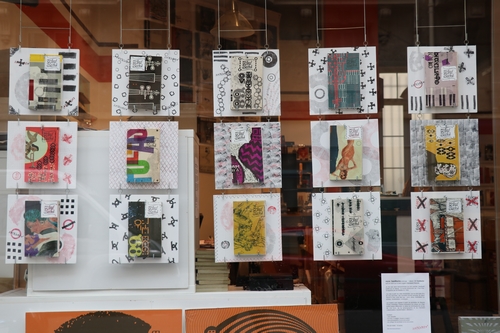 Exposition at Souffle Continu (photo Théo Jarrier)